House Cup 2018: Challenge #1: Food Fight
Posted:
18th June, 2018, 2:13 am
House Cup 2018: Challenge #1: Food Fight!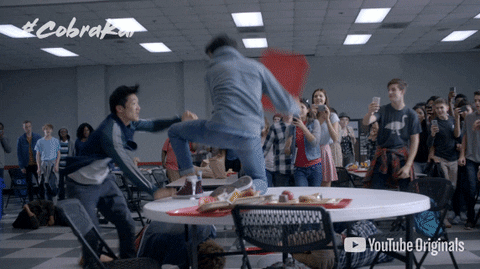 Oh no! GTF High's cafeteria staff has quit in a fit of a rage (something about not being paid a living wage?), which means the students will be without food for the next week. What will the students have to eat if we don't have kind, 50-year-old obese woman cooking up meatloaf and stale bread?
The principal is panicking and has offered extra credit to the students who can put together a meal. The three cliques must each work together to beat the other. First of all, a spooky
Creepy Crawly Skeleton Soup
, to loosen up the insides of the student body. Secondly, a filling
Geometric Concave Chicken
to build some muscle mass. Last, but not least, sugary-sweet
Fruity French Crepes
, to keep the students from rioting.
You must combine efforts with your entire team to prepare a 3-course meal:
- Creepy Crawly Skeleton Soup;
- Geometric Concave Chicken;

and


- Fruity French Crepes.

Whatever these dishes might be is entirely up to your team's imagination! Provide us with the most Instagram-worthy picture of each course and explain what we're looking at, the way only a real maître d'hôtel could!

- Each dish has to be prepared by one of your team members.
- Only

1 picture

per course.
- We sadly can't tell if it tastes good, so try to make it look good!
- Use

real food

and not Play-doh.
- You can interpret the names however you want, but don't serve us a burger as dessert!
- Descriptions can only be a few sentences.

You will be judged on creativity, originality, gastronomical ability, communication of ideas, and effort. A mark out of 10 will be given. You can view last year's submissions here.

Every team will receive 10 points for their submission automatically.

Only one team member will post your clique's submission!


The deadline is

Sunday, 24th of June, at 6:00 pm EST/11:00 pm BST

. There are no exceptions, so try to please plan accordingly.